膵癌: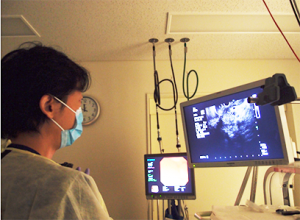 膵癌は、外科手術不能の進行性の癌として診断される事が多く、他臓器の癌腫と比較しても、化学療法や放射線療法に対する治療抵抗性の癌です。ゲムシタビンやS-1、FOLFILINOXなどの膵癌治療薬の出現によって治療成績が向上しつつあるものの、5年生存率は7-8%程度と未だ良好とは言い難く、新規の膵癌治療の開発が切望されています1)2)。
病理学的には豊富な間質が特徴的で、臨床上乏血性の腫瘍像を呈しますが、それが治療抵抗性の一因であると考えられています。乏血性に対しては、臨床的には超音波内視鏡ガイド下穿刺術(Endoscopic ultrasound-guided fine needle injection: EUS-FNI)による治療アプローチの試みがなされてきています。また、豊富な間質に伴う病理に対しては、従来の抗癌剤だけでは対応が困難であり、癌の微小環境を制御する機序の化合物が新たな治療薬として期待されてきています1)-5)。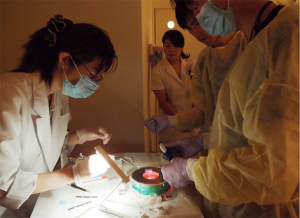 間質のグリコサミノグリカン(GAG)であるコンドロイチン硫酸E(CS-E)は、癌領域においては、卵巣癌での研究が先行してきました6)。卵巣癌においては、CS-Eの発現が高いほど全生存期間(Overall survival: OS)が短期間であることが報告され7)、さらに、進行性の膵管癌、脳腫瘍、肺癌、大腸癌、乳癌などに幅広く発現する事が明らかになってきました8-14)。
試験管内の実験系では、CS-Eは癌細胞株の浸潤と転移に関与する事が示されています15-16)。
さらに、プレイオトロフィン、ミッドカイン、VEGF、Wntなどの作用を増強する事で腫瘍発育に関与していると考えられ、新規の癌治療標的として注目されてきました15-16)。
CS-Eの機能を阻害するために、実験的にはCS-Eに対する中和抗体や、CS-Eをデコイ的に使用する方法を取りうるものの、臨床応用は困難でした。そこで核酸医薬のアプローチが台頭します。CS-Eは、糖硫酸転移酵素であるCHST15(Carbohydrate sulfotransferase 15)により特異的に生合成されることから、CHST15の遺伝子発現を選択的に抑制する事により、CS-Eの発現を抑制するアプローチです。
STNM01は、CHST15遺伝子の発現を選択的に抑制するようにデザインされた、人工合成二本鎖RNAオリゴ核酸製剤です17-19)。CHST15の発現を効果的に抑制することでCS-Eの生合成を阻害し、膵癌の病態改善を目指す開発品です。
参考文献:
Siegel R, Naishadham D, Jemal A. Cancer statistics, 2012. CA Cancer J Clin 62:10-29, 2012.
Hidalgo M. Pancreatic cancer. N Eng J Med 362: 1605-1617, 2012.
Neesse A, Krug S, Gress TM et al. Emerging concepts in pancreatic cancer medicine: targeting the tumor stroma. OncoTargets and Therapy 7: 33-43, 2014.
Whatcord CJ, Han H, Posner RG, et al. Tumor-stromal interactions in pancreatic cancer. Crit Rev Oncog 18: 135-151, 2013.
Ijichi H, Chytil A, Gorska AE et al. Inhibiting CXCR2 disrupts tumor-stromal interactions and improves survival in a mouse model of pancreatic ductal adenocarcinoma. J Clin Invest 121: 4106-4117, 2011.
tan Dem GB, van de Westerlo EMA, Purushothaman A et al. Antibody GD3G7 selected against embryonic glycosaminoglycans defines chondroitin sulfate-E domein highly up-regulated in ovarian cancer and involved in vascular endothelial growth factor binding. Am J Pathol 171:1324-1333, 2007.
Vallen MJ, Massuger LF, ten Dem GB et al. Highly sulfated chondroitin sulfates, a novel class of prognostic biomarkers in ovarian cancer tissue. Gynecol Oncol 127: 202-209, 2012.
Kobayashi T, Yan H, Kurahashi Y, et al. Role of GalNac4S-6ST in astrocytic tumor progression. PLoS ONE 8: e54278, 2013.
Sugahara KN, Hirata T, Tanaka T et al. Chondroitin sulfate E fragments enhances CD44 cleavage and CD44-dependent motility in tumor cells. Cancer Res 68: 7191-7199, 2008.
Mizumoto S, Watanabe M, Yamada S et al. Expression of N-acetylgalactosamine 4-sulfate 6-O-sulfotransferase involved in chondroitin sulfate synthesis is responsible for pulmonary metastasis. Biomed research int 2013:656319, 2013.
Li F, ten Dam GB, Murugan S et al. Involvement of highly sulfated chondroitin sulfate in the metastasis of the Lewis lung carcinoma cells, JBC 283: 34294-34304, 2008.
Basappa, Murugan S, Sugahara KN et al. Involvement of chondroitin sulfate E in the liver tumor focal formation of murine osteosarcoma cells. Glycobiology 19: 735-742, 2009.
Mizumoto S, Takahashi J, Sugahara K. Involvement of advanced glycation end products (RAGE) functions as receptor for specific sulfated glycosaminoglycans, and anti-RAGE antibody or sulfated glycosaminoglycans delivered in vivo inhibit pulmonary metastasis of tumor cells. JBC 287: 18985-18994, 2012.
Ito Y, Watanabe M, Nishizawa T et al. The utility of formalin-fixed and paraffin-embedded tissue blocks for quantitative analysis of N-acetylgalactosamine 4-sulfate 6-O-sulfotransferase mRNA expressed by colorectal cancer cells. Acta Histochem Cytochem 40: 53-59, 2007.
Yamada S and Sugahara K. Potential therapeutic Application of chondroitin sulfate/dermatan sulfate. Current Drug Discovery Technologies 5: 289-301, 2008.
Mizumoto S and Sugahara K. Glycosaminoglycans are functional ligands for advanced glycation end-products in tumors. FEBS Journal 280: 2462-2470, 2013.
Kiryu H, Terai G, Imamura O et al. A detailed investigation of accessibilities around target sites of siRNAs and miRNAs. Bioinformatics. 27: 1788-1797, 2011.
Suzuki K, Yokoyama J, Kawauchi Y et al. Phase 1 clinical study of siRNA targeting carbohydrate sulfotransferase 15 in Crohn's disease patients with active mucosal lesions. J Crohns Colitis 11: 221-228. 2017.
Suzuki K, Yoneyama H. New endoscopic approach of anti-fibrotic therapy for inflammatory bowel disease. Annal Trans Med 5: 191, 2017.